By Angela Gibian, Marketing & Event Manager
What if no one talks to me? What if I am in over my head? What if I am late?
Starting a new job is always stressful, but my first week at North Coast Media (NCM) was an exciting whirlwind of learning, fun and flip-flops. Here is a breakdown of my first few days as the "newbie" at NCM.
Monday: Meet & Greets
During the interview process, I already felt pretty comfortable speaking with the North Coast Media staff I had met. I sensed that it was a good team or family of people who genuinely enjoyed working with each other. I was not wrong. On my first day I got a tour of the office, set up my cubicle (a window seat!) and was introduced to my new co-workers. Some of my teammates even took me out for a delicious lunch. During the rest of the day I learned a bit about each of our publications and I took on a few initial tasks to get my feet wet. Day 1: Check.
Tuesday: Content Rocks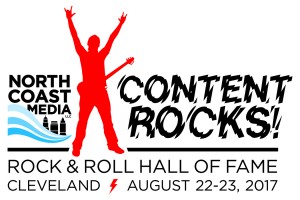 My second day at NCM was filled with marketing, music, food, laughs and trying to remember a lot of names. This was the day I attended the "NCM Content Rocks" meeting at the Rock & Roll Hall of Fame. I joined the NCM Content Team at the Aloft hotel, where we were shuttled off to the Rock Hall for a series of sessions led by a subject matter expert from the Poynter Institute. The speaker was engaging and spirited, and the group took away a lot of useful knowledge on content development and marketing tactics. (And I got to nerd out learning about new online tools that I had never used before)
Following an educational day at the Rock Hall, we were invited to Happy Hour at Margaritaville. We had drinks and played a game of "music bingo," which was an enjoyable way to get know people. I spotted some surprising answers to "favorite band" and "desert island album" on the game cards. After Happy Hour we had a delicious dinner at Alley Cat Oyster Bar, where we chatted about the day's activities. Finally, we ended the evening at Punch Bowl Social with some friendly competition in Ping-Pong and shuffleboard. At this point I couldn't help but think, "I could get used to this," while simultaneously thinking "I need to go to bed."
Wednesday: The Nitty-Gritty
On the third day was when I really got a deep-dive into my role and the tasks at hand. I met with some of the publishers and started working on my first media planner for 2018. This is where I really began to learn about not only the specific publications, but also all of their different media partnership opportunities and offerings. Although at this point I was still working on turning the right way out of the elevator and remembering names, I hit the ground running and commenced on my first media planner outline. (Thank goodness I went to bed on time.)
Thursday: Finding A Groove
By Thursday I finally felt like I was starting to pick up what had been laid down in front of me for the first three days. I got off the elevator and went the right direction, I knew where to find my folders, and I was making great headway on my first media planner. I officially had about one-third of the names down and I was feeling much more confident in asking questions and trying to hunt down answers. I am on my way to finding my groove.
Friday: Flip-Flops
Friday. Friday. Friday. Who doesn't love Friday? At NCM "Flip-Flop Fridays" mean comfortable clothing, flip-flops (if you choose) and a nice half-day of work. Of course, the first thing that happened when I arrived at the office was someone tried to sabotage me by putting donuts in the kitchen! After fighting the urge for a quick sugar rush, I got back to work on the media planner. I also met with another publishing team to get the details to begin working on a second publication's planner. It was a busy morning — but not to worry — I started my weekend early and I was headed home to my dogs.
What a week!
By the time my first week ended, I was sure more than ever that I made the right move coming to NCM. The people here are fun, kind, intelligent and hardworking — the cream of the crop in my opinion. I am excited to face new challenges and reignite and develop my creative marketing skills, while continuing to contribute my logistical expertise and experience to the planning of different events. Although I still have a lot to learn, I feel like there is a bright future ahead for me as a part of this team.
Over the weekend I was fervent in telling my friends and family about my new job — bragging about all of the cool people I had met, and rubbing "Flip-Flop Fridays" in their faces.
Now, week two is about to begin and I'm looking forward to my next adventure…and no longer being the "newbie."
---
Angela is a seasoned marketing professional who has worked in the nonprofit and for-profit space planning everything from test drives at the North American International Auto Show to major gala fundraisers. Now in her third week at NCM, she is no longer the "newbie" as our editorial team has expanded.
Please follow and connect with us: