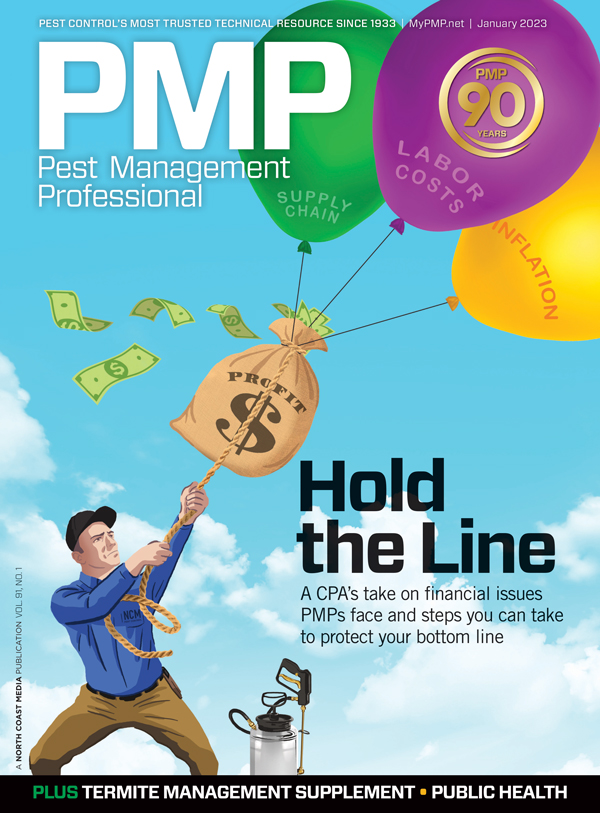 CLEVELAND, OHIO — Jan. 1, 2023 — Celebrating 90 years of covering pest control, business-to-business (B2B) media brand Pest Management Professional (PMP) is unveiling its brand redesign. It offers a modern look for PMP's logo, and print, digital, and social media content, as well as expanded information supporting the professional pest control community's success. Additionally, parent company North Coast Media (NCM) is publishing a special 13th edition commemorating the 90th anniversaries of PMP and the National Pest Management Association (NPMA) in 2023.
PMP's redesign encompasses its magazine, website, e-newsletters, social media, and networking events. The redesign features: a refreshened, brighter color palette to make PMP even more captivating and to aid in navigation cover to cover; a blend of updated typefaces and a larger font size to aid in readability of body copy; plus a bevy of bonus PMP– and supplier-requested content.
"The PMP brand will deliver more technical content than ever before to help pest control businesses thrive, plus it all will be presented in ways that make it more captivating, intuitive and approachable," says PMP Editor-in-Chief Heather Gooch.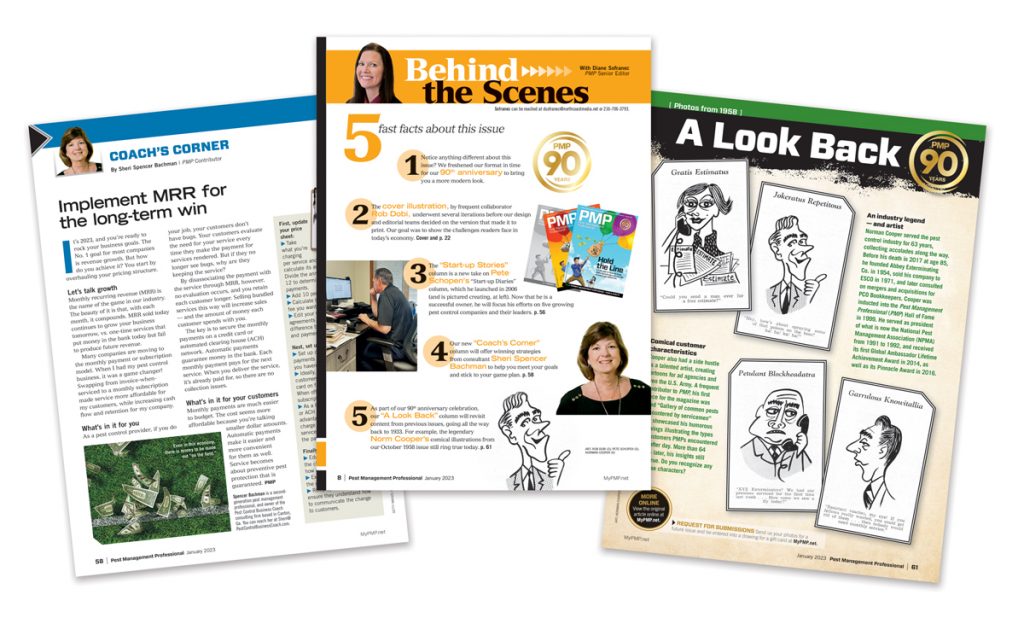 In addition to its sleek new logo, PMP created an anniversary logo to celebrate its 90 years of service to professional pest control. The anniversary logo will adorn PMP's cover and other B2B media platforms throughout the year.
NCM's special commemorative 13th edition of PMP will polybag with the B2B media brand's October 2023 PestWorld Show Issue. PMP staff, columnists and Editorial Advisory Board members will partner with NPMA staff and officers to create can't-resist content for this 90th Anniversary Issue, including:
"90 Milestones" — A timeline of NPMA, PMP, and industry achievements.
"90 Difference Makers" — Snapshots of 90 industry icons who have helped advance professional pest management.
"90 Covers" — A compilation of 90 of our favorite issue covers since our launching in 1933.
"Pest Control 2033" — Nine perspectives of the top obstacles and opportunities our industry will face 10 years down the road.
"PMP owes its rich history to countless faithful servants who have gone before us," concludes NCM President and CEO Kevin Stoltman. "We pledge to continually advance this industry treasure, and the wonderful professional pest control business we're privileged to serve."
Please follow and connect with us: