By: Le Nguyen – Marketing Data Intern
Email is undoubtedly a great communication tool to build customer relationships in an affordable yet effective way. While it's no secret that we all know how to send an email, the greatest challenge for businesses is getting meaningful responses from customers without spamming them. Different marketers have developed strategies for email marketing and here are some basic tips everyone should know for setting up a successful email marketing campaign.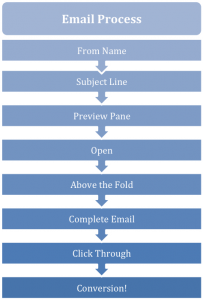 1. Understand how your customers process your emails.
The graph to the right explains the process of how a person reads an email. Understanding this process helps you construct your email. For example, the first things a reader looks at is the "from" name and the subject line, so you should put a catchy headline with a credible "from" address to make sure the reader knows why the email is being sent and the intention of the message.
2. Create a valuable message.
Optimize the content of the email to the target audience and provide readers with valuable information. The content of the email varies according to the business model, but the audience has real concerns or troubles that you can help them with. Talk about those things and tell them why you matter. Here are some useful tips to keep in mind when you write your content:
• Use a personal tone.
• Give instruction, navigation or bullet points.
• Include facts and research.
• Add in entertaining stories or images.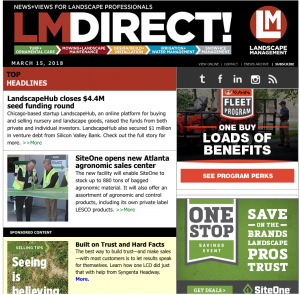 3. Choose a clear format.
No one wants to get a headache looking at a messy email. Don't overwhelm your readers. This means you need to put the layout, the visuals and the contents of your email in a clear and succinct manner. Select an appropriate format for each different purpose/goal and group the information logically to improve the flow of the email. Here is an example of a good format of an e-newsletter.
4. Use a call-to-action.
The golden rule of marketing! A call-to-action is a short statement or phrase that prompts the audience to take action according to your objectives. Calls-to-action include things like "Read this email to get a discount" or "Watch the video to find out the solutions." The phrases also work as a guideline to help the audience know exactly what you want them to do. You can combine the call-to-action with a link so it is easier to keep track of how the readers engage with your email. Check out some outstanding calls-to-action here.

An example of a call-to-action button
5. I hit send. What's next?
This is when analysis kicks in! You can relax a little bit then come back to the campaign after a few days and see how people engaged with your email. Some basic metrics you need to look at are open rate, bounce rate and click-through rate. It is intriguing to find out how many people click on a link in the email, but at the end of the day, what top managers want to see the most is the conversion coming from the email campaign. Depending on the type of your business and the goals you set, the conversion can be an article view, a new subscription or a product sale. Closely monitor the conversion and refine your next emails accordingly. Go back to the email process and see which step the readers drop the most so you can test other features for a better campaign.
There are many tips and tricks for email marketing campaigns, and you can even learn more through in-depth online training courses at Lynda.com
Remember: never send an email you wouldn't want to get!
Please follow and connect with us: