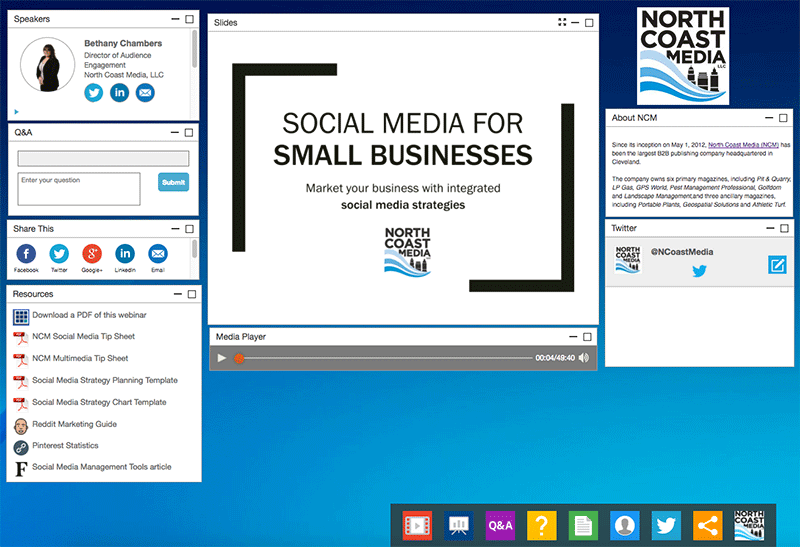 By Andy Bell
We are excited about the launch of our first independent webinar series here at North Coast Media. In the past, NCM has worked with clients to design and share webinars on an array of topics. Now, we're sharing the tools and practices we utilize as Cleveland's premier B2B publishing company in a series of 7 webinars. Each topic is designed to enhance your industry knowledge and strengthen your company's offerings.
Webinars can accomplish more than a traditional training session. As an attendee, you have remote access to a range of topics with the flexibility to pause, skip and rewind meaning you never miss a beat. With downloadable files and active Q&A's, you can stay engaged like a live attendee. Having the freedom to choose any webinar guarantees you're learning relevant information, and we're reaching our target audience.
With our videos, you gain applicable information while avoiding travel expenses and time. The growth of technology has only intensified the need for engaging digital content and our webinars are designed to assist you in this changing era. We discuss ways to quantify data with our "Analytics 101" webinar and explore programs to aid in content creation with "30 Digital Tools For Marketers." Are you looking to incorporate social media into your business or wondering why audited data is crucial? This series of webinars will answer these questions, while simultaneously connecting you with our expert staff to answer any further inquiries.
Below you will find links to each webinar. This series is a chance for industry pros to engage with our knowledgeable experts in their perspective fields. We encourage you to take time to explore all North Coast Media has to offer. Webinars are free and you'll have the ability to log back on and reference the material at any time.
---
Analytics 101 – Join our data gurus to uncover the magic of metrics and how to use data to drive your decisions.
https://event.on24.com/wcc/r/1755465/6B92BB560787C8631E0A539CE010CFC7
The Integrated Audit Statement Advantage – Why audited data is credible.
https://event.on24.com/wcc/r/1755740/FD531F2D429DFE60C1BD718375A51AE9
30
 Digital Tools for Marketers – 30 Digital Tools for Marketers that can help enhance your content and increase your audience.
https://event.on24.com/wcc/r/1764227/E2BC6D8798F5F02EBD140F6E6BE5690B

Social Media for Small Business – Award-winning strategies to build a brand voice, gain new followers and grow readership.
https://event.on24.com/wcc/r/1764247/F3C1DB5BB7A322809C96A1156E8B6352
Coming Soon! Sign up to receive a notification when these webinars are live! 
#AMA: Content Marketing Experts Panel – Content marketing terminology, content marketing dos and don'ts, best practices, & channels.
https://event.on24.com/wcc/r/1764257/5BD860929B3E3CAF1E228735EC82A5EF

Digging in to Digital Advertising – A comprehensive look at NCM digital advertising offerings and production process.
https://event.on24.com/wcc/r/1764260/35668C9A3EBE11F6D26242D093390571
Content Marketing Channel Selection – 7 Tips from a publisher.
https://event.on24.com/wcc/r/1764240/725B3BB08E86A8C786A423D768D191F1

Please follow and connect with us: