CLEVELAND – April 20, 2017 – North Coast Media (NCM) is proud to announce that Editorial Director Marisa Palmieri has been honored as one of Folio Magazine's Top Women in Media in the "Director-Level Doers" category.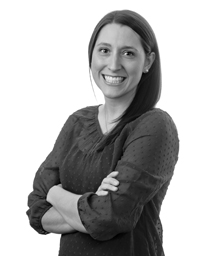 The category recognizes those departmental directors who can show proof of achievement in three distinct areas of work. Palmieri's application focused on her leadership in the redesign and rebranding of Landscape Management (LM), her advancement of new media techniques and her role in establishing editorial standards for the company as a whole.
The annual Top Women list is composed of the most influential women in media. Honorees are chosen for their demonstrated ability to "move their teams, brands, and companies forward." Palmieri is NCM's second consecutive winner of a Top Women award.
Palmieri, along with winners from Condé Nast, Twitter, Grist and Harvard Business Review, will be honored during an awards luncheon Wednesday, June 7, 2017 at the Edison Ballroom in Times Square in New York City.
Palmieri, who serves a dual role as NCM's editorial director and editor-in-chief of LM, is known as a leader and mentor who empowers those around her. Her application to the Folio board included personal statements from seven members of the LM team.
"All of us at NCM, and particularly her LM teammates, are extremely proud of Marisa. She's a positive and nurturing leader who's committed to her craft and her team. Marisa's talent, creativity and integrity shine through in everything she does," says Bill Roddy, group publisher of Landscape Management and Golfdom. She exudes 'Director-Level Doer' in so many ways, making her the ideal recipient of this well-deserved honor."
Palmieri has worked in every editorial role in her 10 years in green industry publishing. She serves on NCM's content marketing committee and trains interns and new hires to become better editors. Her work on LM's redesign in 2014 earned the brand 22 regional and national awards.
Palmieri has a Bachelor of Science in Journalism from Ohio University's E.W. Scripps School of Journalism and is mom to Sadie and Paige, and wife of Mike Shugrue, a multiple-times-deployed member of the Ohio Army National Guard.
---
About North Coast Media
North Coast Media, LLC. employs over 50 professionals who collectively possess hundreds of years of experience creating and delivering unparalleled media — from industry-leading print magazines, to websites and email newsletters, to social media and mobile solutions, to exclusive industry research, custom products and one-on-one buyer-seller networking events. NCM flagship brands include Golfdom, Landscape Management, Pest Management Professional, LP Gas, Pit & Quarry and GPS World. Ancillary brands include Portable Plants & Equipment, Geospatial Solutions, Athletic Turf News and Truman's Scientific Guide to Pest Management Operations.