CLEVELAND — May 8, 2017 — North Coast Media (NCM) is proud to announce Digital Media Content Producer Allison Barwacz has been awarded a Young Leaders Scholarship from the American Society of Business Publication Editors (ASBPE).
Barwacz will receive her award at the Azbee Awards of Excellence Banquet May 17 at the Poynter Institute for Media Studies in St. Petersburg, Florida.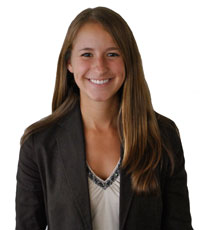 The scholarship funds Barwacz's attendance at the ASBPE National Conference, which is held in conjunction with the awards banquet. Five of the country's top business editors under 30 are awarded the scholarship each year to give them the opportunity to learn from each other and industry veterans.
"Allison's willingness to pitch in and dedication to each project she takes on is admirable and an extreme asset to our team," says NCM Digital Media Manager Joelle Harms. "A true leader, Allison capitalizes on new digital opportunities for each brand she serves. Her future in the industry is nothing less than promising."
Barwacz is responsible for developing content for the digital properties of NCM's LP Gas and Pit & Quarry brands. She also produces e-newsletters for GPS World and has assisted with video production and show coverage for Landscape Management and Golfdom.
Tasked with providing an immersive view of the industries she covers, Barwacz researches long-form features, shoots and edits video, creates multimedia projects and engages with audiences on a variety of social media platforms.
Darren Constantino, editor of Pit & Quarry, was the ASBPE sponsoring editor for Barwacz's scholarship application.
"Allison not only takes on assignments with enthusiasm, she'll often volunteer for them," Constantino says. "She is eager to travel, and often returns from trade shows and client events with quality video. On more than one occasion, clients have told me Allison was a joy to have at their event."
Barwacz has helped veteran print editors integrate multimedia into their content workflows and improve their digital literacy, and she has led sessions in the company's "Lunch & Learn" series on the topic.
Barwacz holds a bachelor's degree in magazine journalism from Ohio University's E.W. Scripps School of Journalism with specializations in Spanish and English. She has worked for North Coast Media since July 2014.
---
About North Coast Media
North Coast Media, LLC. employs over 50 professionals who collectively possess hundreds of years of experience creating and delivering unparalleled media — from industry-leading print magazines, websites, email newsletters, social media and mobile solutions — to exclusive industry research, custom products and one-on-one buyer-seller networking events. NCM flagship brands include Golfdom, GPS World, Landscape Management, LP Gas, Pest Management Professional and Pit & Quarry. Ancillary brands include Athletic Turf News, Geospatial Solutions, Portable Plants & Equipment and Truman's Scientific Guide to Pest Management Operations.