Join A Winning Team.
Make Your Mark at North Coast Media.
Looking for a career that's more than just a job? That's good, because we're looking for employees who are more than just employed.
At North Coast Media, we want thought leaders and creative innovators. Share your expertise and enhance your skills in an energizing environment. Be part of something bigger.
Benefits
BFFs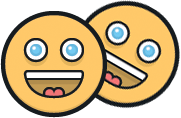 Friends and coworkers. We're a real-life buddy comedy (and it's not Horrible Bosses).
Health Insurance

Take care of yourself and your family. And keep those teeth pearly white.
Free Lunch

There is such a thing, and we do them at least once a month. Slyman's anyone?
Friendly Competition

Winning isn't everything, it's the only thing. At least in fantasy football.
401K

Invest in your future. One less thing to worry about.
Do Good

Volunteer at the homeless shelter. Hand out turkeys on Thanksgiving. Help others, help yourself.
Fun Committee

Know how to entertain a crowd? Let's get this party started. And a good time will be had by all.
Celebrations

A workiversary, big accomplishment, even a new pair of glasses. C'mon get happy!
Flexible Schedules

All work and no play makes Jack a dull boy. But not you; you have flextime and ample vacation.
Job Listings

We are always accepting applications for editors, designers, media professionals and account managers. To submit your resume, please contact northcoastmedia@northcoastmedia.net.
North Coast Media, LLC •
Privacy Policy
• © 2015