By Bethany Chambers, Digital Operations Manager
A few months ago I wrote a blog about what those of us who work in Cleveland could expect from the 2016 Republican National Convention. Although a lot of questions were unanswered at that point, I was confident then it wouldn't be a big deal.
But when I woke up for work last week, I pictured worst-case scenarios. Could notoriously cranky Cleveland commuters handle the mess of road closures? Would it matter that some law enforcement agencies had pulled out of the convention security team?
Like many Clevelanders still high off the Cavaliers' victory, I was certain, we, the affable Midwestern best friends of every TV show, would graciously relish our time in the national spotlight. The flip side to this Clevelander mentality is the nagging feeling that something good can quickly devolve into epic disappointment.
Let me tell you, I have never been so happy to be kind of wrong—the event was a big deal in a good way.

Lesson 1: Planning is everything (as is a well-oiled Starbucks team).

One thing the city of Cleveland exemplified this past week, in the face of a disjointed, uneven convention show, was that planning goes a long way. Before the convention started—and certainly driving in on Monday morning—commuters noticed the sheer number of fences and barricades. These designated walking areas, commuter and through-traffic access and a set of lanes exclusively for secure convention vans and law enforcement. They were well-marked  and made for an easy commute. I got into the city from Summit County in under an hour (a feat on any normal workday) following the directions city officials suggested in advance.
The police officers I encountered (from all over the country) were congenial, conversing with visitors, passersby and protestors alike. My morning routine often starts at the Westin Downtown Cleveland across from NCM's office at Starbucks. To get into the "Team Trump" hotel, you had to go through airport-style security. As I looked around in bewilderment, I got a warm welcome from screeners who understood my confusion at our transformed city.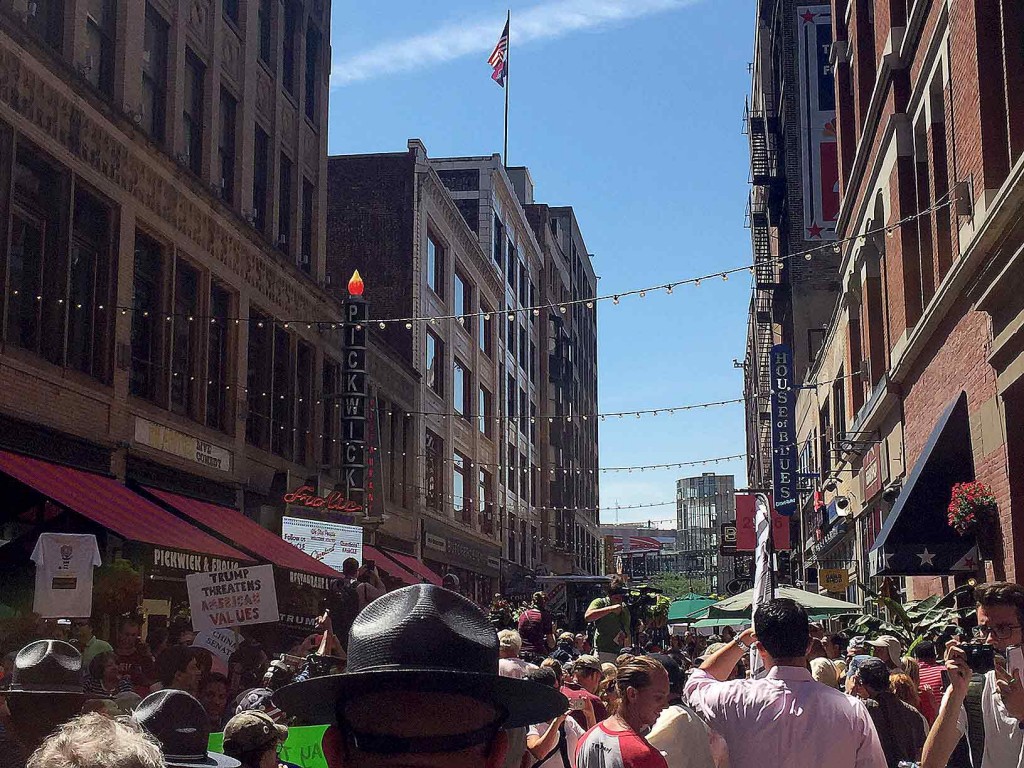 And that high-level planning wasn't just limited to government. Every business I went into had staffed up for the onslaught of visitors (in some cases, only to find they were slower than usual). Nowhere was this more evident than at Starbucks, where weary conventioneers who had partied hardy the night before were in and through the line in record time, commenting on the quality service. And as we know, with coffee, anything is possible.
Lesson 2: Downtown Cleveland is actually a lot bigger than it seems.

As I expected, 70,000-plus people coming to Cleveland last week (I haven't seen final figures) was not a problem based on sheer quantity. That much was evident when the city amply handled a crowd of 1.35 million for the Cavs Championship Parade. My greater concerns going into the week were about how inconvenienced we would be in our daily routines.
The answer? Very little. Once they got to the city from their hotels (which were all over Ohio), conventioneers, media and protestors were generally limited to the Gateway District around Quicken Loans Arena, East 4th Street and Public Square. While I was briefly walled off by the bicycle cops accompanying the "Wall Off Trump" protest near the casino, I later drove home from work around Public Square without incident.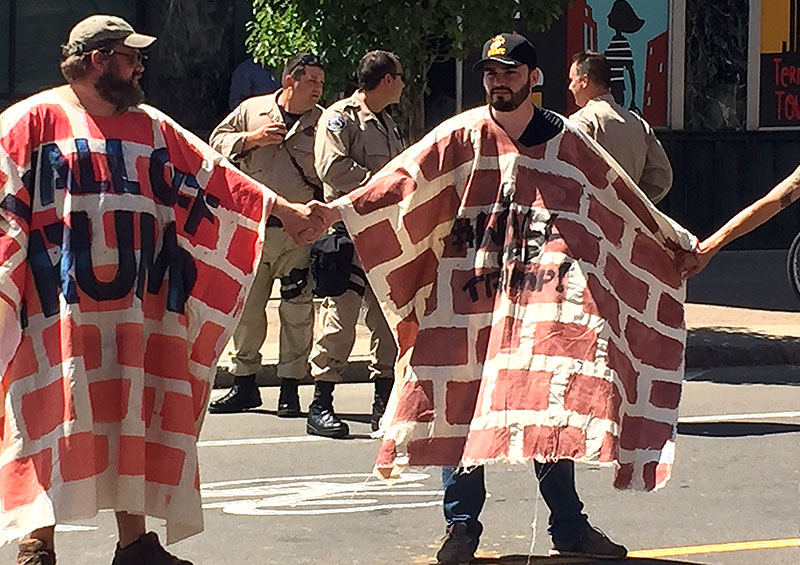 As expected, you couldn't get lunch anywhere in that area, but just a couple of blocks down Prospect Avenue the Winking Lizard and the new Buffalo Wild Wings were empty. Back up by NCM HQ in the Civic District, there was barely any sidewalk traffic at all at lunchtime, save for the Make America Read Again librarian.
This was largely due to the many offices that closed or encouraged staff to work remotely (as was the case with ours). Had most of those offices been open, though, I contend there would have been no issue. There is plenty of Cleveland to go around—plus the visitors don't know about the Phở Thắng Café lunch menu.

Lesson 3: We can do this again … and even better.

Cleveland Chief of Police Calvin Williams won rave reviews from the media, Secret Service—even Donald Trump—for his empathetic, patient handling of protestors. His police force hugged it out, danced it out and prayed it out, never once resorting to violence. And Williams said he's here to stay in Cleveland. As The Washington Post's Dan Zak put it, "We were promised a riot. In Cleveland, we got a block party instead."
I'm not suggesting we become an Olympic host city, but for many of the mid-size trade shows that business-to-business (B2B) marketers and media pros know all too well, Cleveland would be the perfect location. The new Huntington Convention Center here has 225,000 square feet of exhibit hall space, and is adjacent to the Global Center for Health Innovation (also called the Medical Mart), Marriott and Hilton hotels and Public Auditorium. In square footage that isn't going to steal events from Las Vegas or Orlando, but it could bring in the type of events common in Indianapolis, Pittsburgh, Columbus, possibly even Nashville.
Content Marketing World (CMW) has held a convention here since 2012 that has ballooned in size, and Joe Pulizzi, a former B2Ber himself, has made believers of his CMW attendees that Cleveland is a fun place to spend a week in the fall.
Or, since we do this RNC thing so well, maybe we can get another convention when Gov. John Kasich runs for president again.
---
Chambers previewed the RNC in May blog post for NCM Insights. She enjoys the sport of politics and previously covered the 2008 presidential election for local media.